Establish various zones like dining, lounge, and grill areas to provide functional outdoor living spaces.
Implement lighting and heating units to enhance the ambiance and extend usage during colder seasons.
Choose comfort-focused, weather-resistant furniture and consider safety when incorporating water features.
Use plants and greenery to boost aesthetics, purify the air, and create shade, enhancing your outdoor oasis.
Incorporate items that reflect the style of your home to tie it in with your interior living areas.
As a homeowner, you know how important having a beautiful and comfortable living space is. But have you ever considered taking your living space beyond the four walls of your home?
Your outdoor oasis, or exterior living space, can be as valuable and enjoyable as your interior spaces. With the right ideas and tips, you can turn your outdoor area into a luxurious, relaxing retreat that your family and friends will enjoy for years. This blog post shares some of the best ways to elevate your outdoor oasis.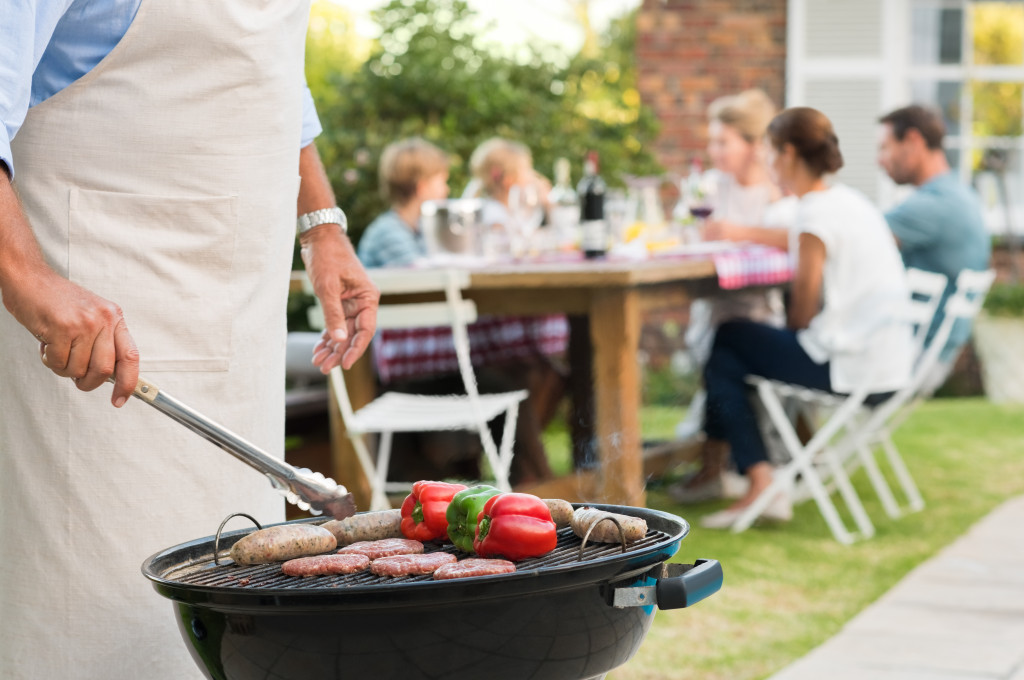 Create Zones
One of the most important things you can do is set up different zones in your outdoor living space. You can create a dining area, a lounge area, and even a grill area. Use plants, screens, and other landscaping features to create a sense of privacy and define each space. This will make your outdoor area feel more like an extension of your home and give you all the necessary functionality.
Dining Area
The dining area is the focal point of your outdoor space. Furnish it with a large, comfortable dining table and chairs that match the style of your home. Consider also adding an outdoor rug to make the area feel more inviting. If you have children, add a play area where they can have fun while staying close by so you can keep an eye on them.
Lounge Area
Create a cozy lounge area with comfortable seating arrangements perfect for relaxing and enjoying the outdoors. Add plenty of throw pillows and blankets to get cozy and stay warm on chilly nights. Be sure to include an overhead light or two to have fun after dark.
Grill Area
The grill area is an essential part of any outdoor living space. Invest in a quality grill and many accessories like an outdoor refrigerator, cutting board, utensils, etc., to make grilling easier and more enjoyable. Make sure the area is well-ventilated so fumes don't build up indoors. If you plan on entertaining regularly, consider investing in an outdoor kitchen to simplify cooking for a crowd.
Add Lighting
Lighting can make all the difference in creating ambiance and setting the mood. Consider adding outdoor string lights, lanterns, or even fire pits and fireplaces to your exterior living space.
Warm and Inviting Atmosphere
Lighting can create a warm and inviting atmosphere in your oasis, making it an ideal space for entertaining or relaxation all year. You can even keep your outdoor area illuminated with the proper lighting to enjoy it late into the evening.
Invest in Comfortable Seating
If you're going to spend time in your outdoor oasis, comfortable seating is a must. Skip flimsy plastic chairs and opt for comfortable outdoor furniture, like patio sets, Adirondack chairs, and even hammocks. Look for furniture with weather-resistant cushions and fabrics to withstand the elements.
Outdoor Heating
Setting up outdoor heating is essential if you plan to spend time outdoors even when temperatures drop. You can install durable outdoor fire pits in the area. Portable fire pits are a great option for adding warmth and ambiance to your outdoor space. Or, opt for portable space heaters that can be easily moved around the area. Outdoor heating can extend your outdoor season and make cool nights more enjoyable.
Incorporate Water Features
Add a few plants and stones to make your water feature even more appealing. Create a cozy seating area around the pond or fountain to enjoy the tranquil atmosphere even more. You can also purchase lights for your water features to enhance their beauty and create an ambiance perfect for evening entertaining.
Consider Safety
When incorporating water features into your outdoor oasis, it's essential to consider any safety hazards. Keep your water features away from steps, children's play areas, and other places where they might be exposed to dangerous falls. Ensure proper drainage is around the feature so it doesn't overflow or create a flood hazard in heavy rain.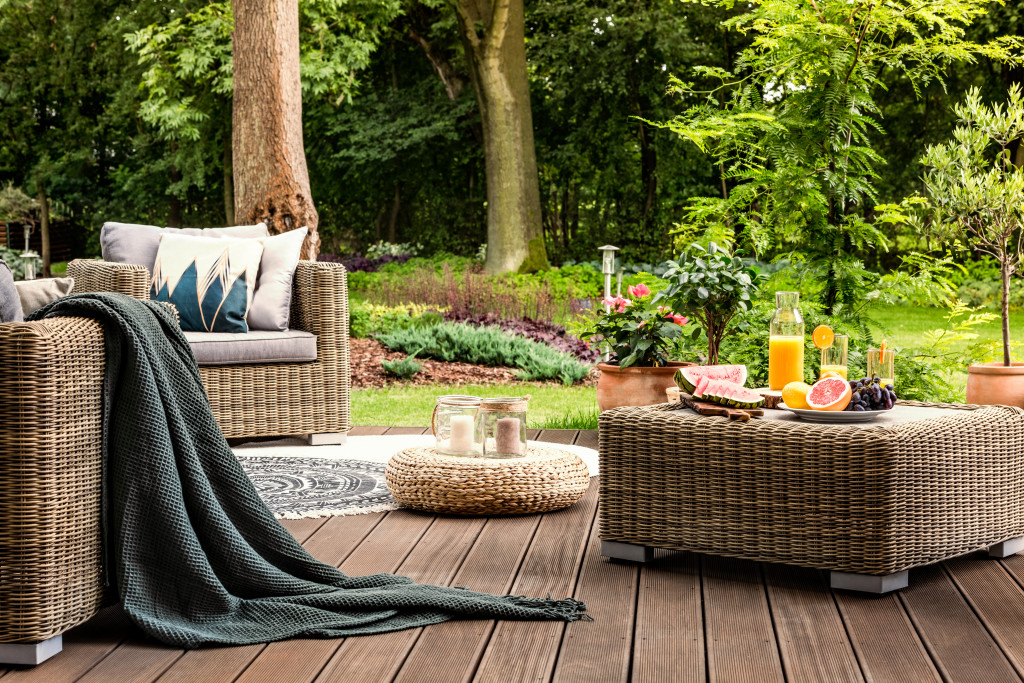 Mix in Plants and Greenery
Lastly, nothing says "outdoor oasis" better than beautiful plants and greenery. Not only do plants look great, but they can also help purify the air and create shade. Use plants and greenery wisely to create a cozy and inviting environment that will make you want to spend all your time outside.
Your outdoor living space can be just as enjoyable and valuable as your indoor spaces. With the right ideas and tips, you can turn your outdoor oasis into an extension of your home and create the perfect place to relax and unwind with family and friends. Consider creating zones, adding lighting, investing in comfortable seating, incorporating water features, and mixing plants and greenery. Try out some of these tips to elevate your outdoor oasis and enjoy a luxurious living space in which you'll love spending time.