Any apartment, regardless of the size, can get disorganized and messy. But with smaller apartments like a studio unit, having little to no organization can make your space feel even smaller.
If you want to make the most out of your limited space, here's how to make your tiny apartment clutter-free:
1. Let in as much natural light as possible
If your apartment has a sliding glass door system that opens up to a balcony, consider yourself lucky. You can get a lot of natural light with that floor-to-ceiling glass. If you only have windows, however, don't fret. You can let in as much natural light as possible by using lighter curtains, washing your windows, and ditching the drapes. By doing so, you can make your apartment look cleaner and brighter than it is, which helps make the space feel less cramped.
2. Downsize your belongings
The best way to keep your apartment clutter-free is to get rid of the excess clutter that you no longer need or want. If you want to do this well, set up three large boxes in the middle of your apartment. One box is for the stuff that should go in the trash, one box is for the things you can sell, and one box is for the stuff that you want to give away to charity, friends, or family.
Start decluttering in one spot of your apartment, then move around until you've gone through the entire place. If you're not sure if you want to throw away a particular item, put it in a separate box for later perusal. Don't rush yourself to decide lest you wish to regret it later, but don't spend too much time contemplating every single item either.
3. Buy space-saving furniture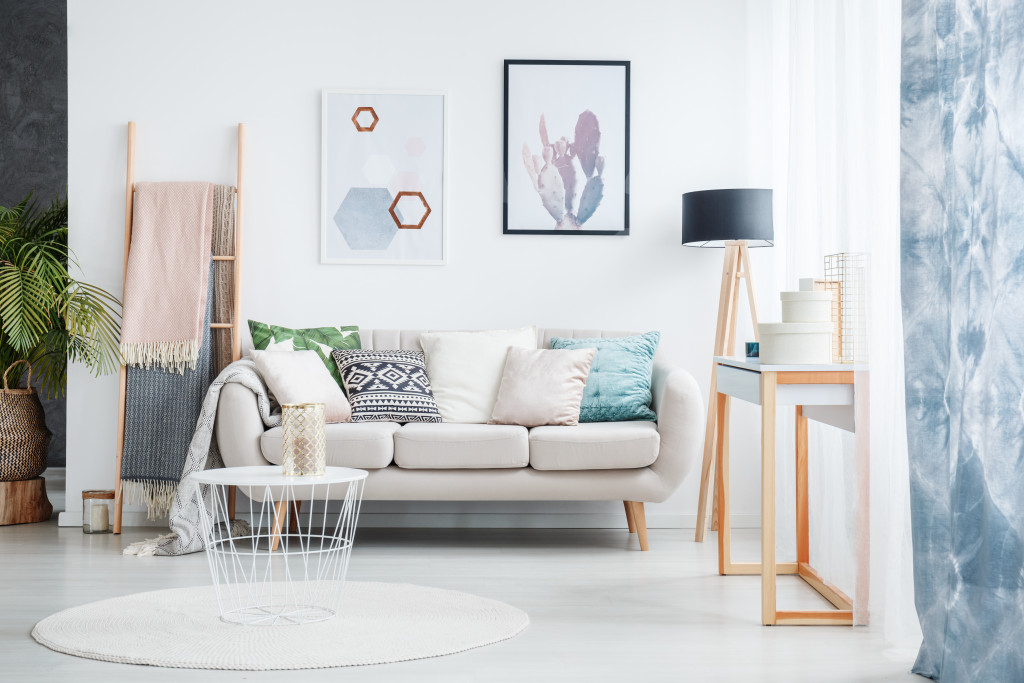 Your apartment will feel a whole lot bigger if you use space-saving furniture, such as folding dining tables, pull-out beds, and multi-purpose working desks. Moreover, it's better if you choose smaller furniture to avoid consuming too much of your already limited space.
4. Take advantage of vertical space
In small apartments, kitchens usually have limited storage space. If you have this problem, you can use your wall space instead to hang utensils, spice racks, and other odds and ends.
5. Hide wires and cords
Stray wires and cords not only unsightly, but they can pose a tripping hazard for you or your guests. Instead of leaving them out in the open, attach them along the walls or hide them behind furniture.
6. Use clutter as decorations
Don't have the space for some of your things but don't want to throw them away either? Turn them into decorations instead. For example, organize your books by color, display your keepsakes on the shelves, or hang pictures, tapestries, and other wall decors.
An organized apartment can look and feel ten times bigger than a messy one. This is especially true for apartments that are already small, such as small studio units in the big city.
By organizing your apartment in the best way possible, you're not only making your space look bigger, but you're also giving your future self a cleaner, neater, and stress-free environment.