Adventure in relationships fosters growth, keeps them vibrant, and nurtures deeper connections between individuals.
Shared interests like trying new cuisines, exploring cultures, and pursuing hobbies can excite a relationship.
Post-wedding adventures and setting new relationship goals help maintain the spirit of adventure in relationships.
Staying connected amidst wedding planning chaos is crucial and can be achieved through open communication and breaks.
Wedding planning is an adventure that requires clear vision, open communication, and choosing a unique venue.
In relationships, the spirit of adventure is crucial in fostering growth and exploration. These complex and multifaceted entities require effort, dedication, and generous energy to thrive. While starting a relationship may seem effortless, sustaining it over time and burning the fire demands a proactive step to maintain interest, freshness, and engagement.
Routine, while comforting and soothing, can lead to stagnation and boredom. Couples can embrace new adventures and pursue mutual interests and passions to counteract this. They can forge a deeper and more meaningful connection by tackling new challenges and venturing into uncharted territories.
The spirit of adventure adds excitement and novelty to the relationship and encourages personal growth and exploration. It opens doors to new experiences, broadens perspectives, and allows individuals to discover untapped potential within themselves.
By continuously seeking new adventures together, couples can create a dynamic and evolving bond that nurtures their connection and keeps their relationship vibrant and thriving. This blog post will explore how to level up your relationship game by embracing adventure together, exploring new horizons, and setting new goals for your future.
Embracing Adventure Together
To inject adventure into your relationship, start by embracing shared experiences. Engage in new activities, visit new places, and take on challenges together to create lasting memories. Here are some ways to embrace adventure as a couple:
Pursuing Shared Interests and Hobbies
Pursuing your passions together can be a great way to explore new topics and gain insights into your partner's personality. You may discover that you share similar interests in literature, music, or cuisine. Perhaps you've both always wanted to learn salsa dancing or take a wine appreciation class.
Traveling and Exploring New Places
Travel is a great way to expand horizons, embrace cultures, and gain fresh perspectives. Discover hidden gems and create unforgettable memories. Whether a weekend getaway or a month-long backpacking trip, traveling together helps personal and relationship growth.
Trying New Activities and Challenges
Don't be afraid to push yourself outside of your comfort zone and try new things. You'll always remember that skydiving, bungee jumping, or even going on a hot air balloon ride can be an exhilarating experience. While not every new activity or challenge will be enjoyable, trying new things together will help you grow and bond.
Planning a Wedding: A Grand Adventure
Getting married is arguably one of the biggest adventures a couple can undertake. It's a time to celebrate your love and commitment to each other and start a new chapter in your life. Here are some ways to make your wedding planning experience more adventurous:
Setting the Vision for Your Wedding
Before you dive into the specifics of wedding planning, take some time to discuss your vision for your special day. Having a shared vision for your wedding will help you make better decisions and prioritize what's most important.
Navigating the Wedding Planning Process
Planning a wedding can be overwhelming, but it doesn't have to be. Delegate tasks and responsibilities to each other and ensure you're both on the same page. Be willing to compromise and communicate your wishes and concerns openly and honestly.
Choosing the Perfect Venue
Your wedding venue sets the tone and creates the backdrop for your wedding day. Seek  beautiful outdoor wedding venues  for your ceremony and reception for a unique and adventurous experience. Nature can provide a stunning setting for your special day and create an unforgettable wedding adventure. This will make your wedding truly unique and reflect your adventurous spirit.
Staying Connected Amidst the Chaos
Wedding planning can be a hectic and stressful time, but it's essential to stay connected with each other throughout the process. Take breaks and do fun activities together unrelated to wedding planning. Make sure to communicate your feelings and emotions honestly and openly.
Expanding Horizons Beyond the Wedding
While weddings are exciting, they are just one chapter in your relationship. Setting new relationship goals and pursuing them together can help you grow as an individual and a couple. Consider taking on the following:
Post-Wedding Adventures
The honeymoon phase doesn't have to end after your wedding day. Plan post-wedding adventures that reflect your shared interests and passions. Perhaps you've wanted to hike or travel to a foreign country. Whatever you do, make sure to create new experiences and memories together.
Setting New Relationship Goals
Just like adventure, growth is an ongoing process. Set new relationship goals that reflect your current values and priorities. Perhaps you want to start a family or buy a house. Maybe you want to focus on career development or travel more. Whatever it may be, discuss and plan your goals together.
Maintaining the Spirit of Adventure
Keep the spirit of adventure alive in your relationship. Make conscious choices to keep things fresh and exciting. Avoid falling into routine and monotony. Embrace the unknown, seek new experiences, and take on challenges. Your relationship will be more prosperous and more fulfilling as a result.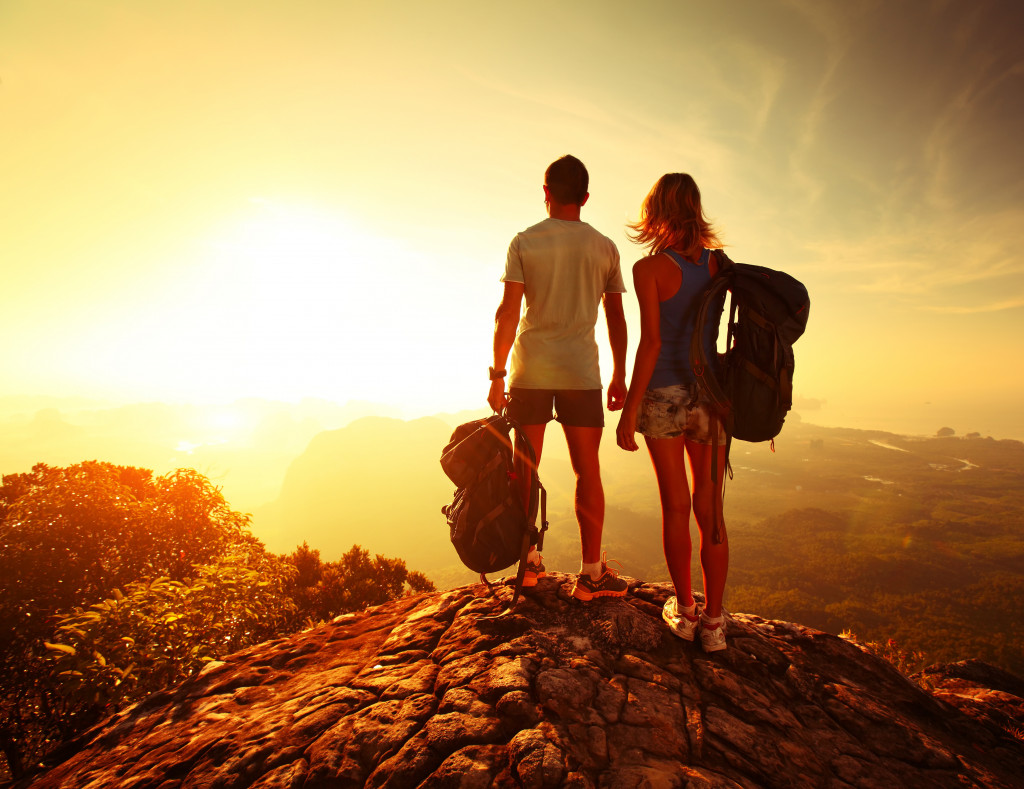 Relationships are a journey, not a destination. Incorporating the spirit of adventure can help you create more robust, meaningful connections with your partner. By embracing shared experiences, pursuing new interests, traveling to new places, and trying new things, you'll create memories that will last a lifetime.