Who doesn't love going on a camping trip? But, before you do head out, it is important to make the necessary preparations. Having (or not having) the right equipment, materials, and supplies can mean the difference between an enjoyable outing and a boring, troublesome one.
So, before you head out on your next camping trip, make sure that you have these essential items packed in your bag to make the trip memorable and enjoyable.
First aid kit
Either you or someone on the camping trip is bound to get injured. The injury can be due to scratches, burns, or cuts. Depending upon the severity, the injury can be a major or minor one. Whatever the case, having a first aid kit is necessary to provide the necessary medical attention to the injured person. Don't arrive at the campsite without one. If you are not carrying it, make sure at least one of your friends has a first aid kit in their camping bag.
Shelter
If you are on a camping trip organized by some organization, they will likely have made arrangements for your stay, like a tent. But, if you are on your own, you will have to carry your own accommodation to the campsite. You will need to carry a portable tent, ropes, hammer, or an ax, to erect your tent. For bedding, you will require a comfortable mattress, pillows, blankets, and sleeping bags.
Cooking items
While it is a good idea to have readily consumable food, cooking a meal at a campsite is a wonderful experience. Carry a stove with fuel and matches to cook your food. Similarly, carry utensils for food preparation and serving purposes. For snacks, carry packets of your favorite chips or some sandwiches. Similarly, have a jar of peanut butter handy. Peanut butter is a great protein and fat source and can help you with your mid-meal hunger pangs.
Many campsites have potable water. But, if not, you can carry your own water. Similarly, if there is a natural water source near your campsite, you can use it for cooking and drinking purposes. You might need to treat the water before use, depending upon its condition.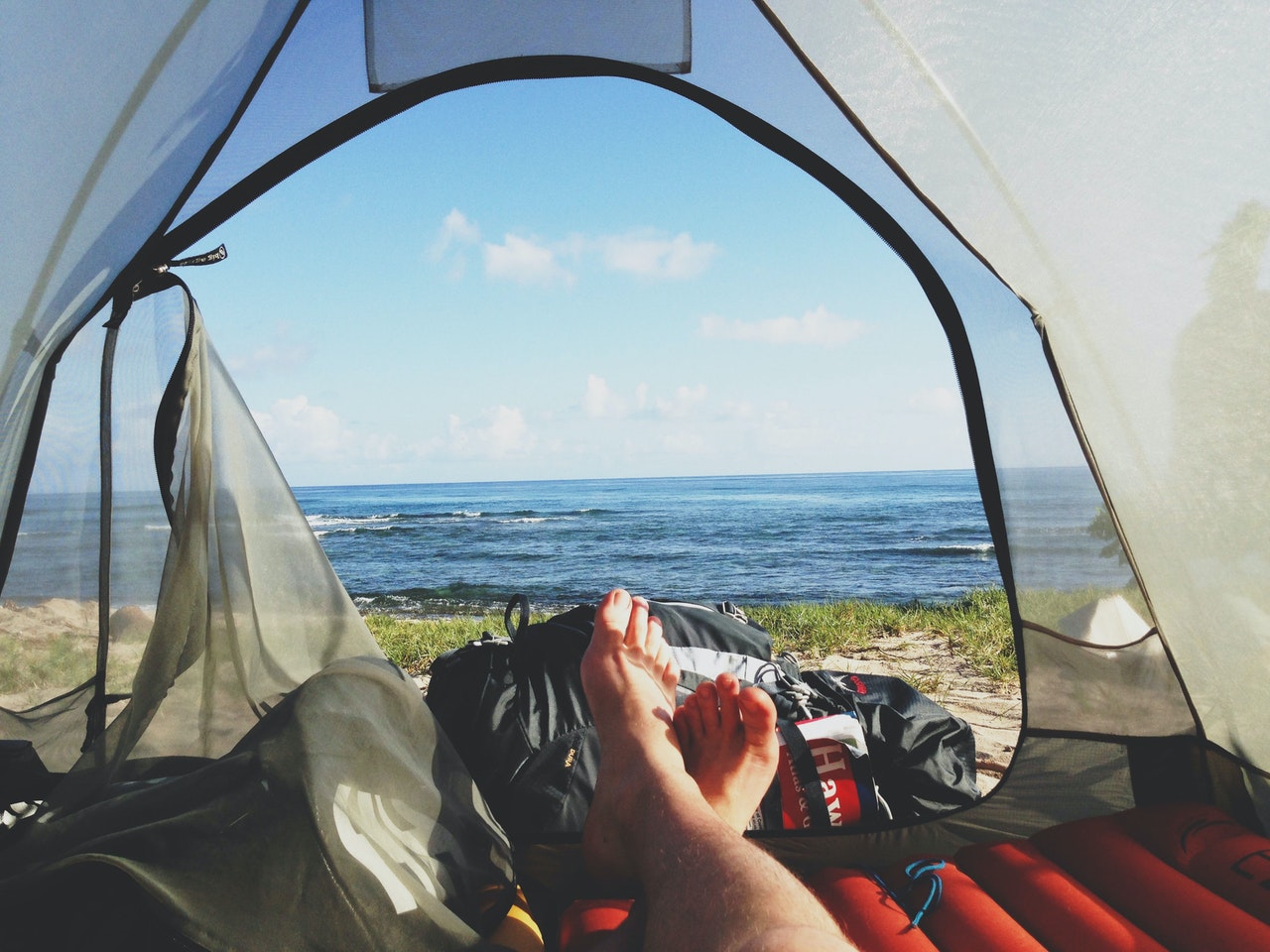 Mobile phone power banks
Mobile phones have become an essential part of our lives. And they can be of great help and assistance on your camping trips too. They can be used to find and navigate our way to the campsite with inbuilt GPS, help us keep connected with the outside world through the internet and voice calling facilities, and even help capture moments with the highly advanced camera systems present in most phones today.
However, most mobile phone batteries drain out within a few hours of use. The most they can last you even with minimal use is a day. Thus, it is necessary to have a power bank with you to charge your phone and use it longer.
Flashlight
A flashlight is necessary to help you find your way in the dark, whether for your midnight bathroom break, midnight cravings, or a sneak trail with a loved one. You can also carry alternatives such as a headlamp or a lantern, but a flashlight is more convenient to use than the other two options. Similarly, mobile phones, too, have flashlights that can help you in the dark. However, to save your phone's battery life, you should use it only when necessary and for short periods.
Navigation tools
Like flashlights, mobile phones even have advanced navigation tools such as GPS to help you on your camping trip. Similarly, most cars, too, have a navigation system in their consoles. But, if your camping site is remote, the signal reception will likely be weak or dead, leaving the navigation system useless. Thus, when camping, have traditional navigation tools like a map and a compass to figure your way around the campsite. If you don't know how to read a map or use a compass, make yourself acquainted with both processes before heading out.
Alternate clothing
The weather can change suddenly as soon as you reach the campsite or midway. A bright sunny, warm day can turn into a cold, rainy one in an instant. Thus, you should carry a pair of alternate weather wear, in case of sudden weather changes. It is better to be prepared rather than being grumpy and upset due to unexpected weather changes.
We hope that this blog will prove helpful in your future camping trips. In addition to these essentials, there are other items that you will need to carry depending on the campsite location and duration. Before you leave, make sure that you check whether you have everything packed to have an enjoyable trip.