Home is the best place to be when you feel like relaxing and lazying around, but seeing different sights and setting off explorations are some of the few sweet things in life. The typical things people do while on a trip include going to touristy places and doing touristy activities, which may sound bland for experienced travelers.
If you're running out of destinations you want to visit for your upcoming getaway, coming up with themes and treating it like a quest might help you find the best spots for your next journey.
For instance, if you want to adventure in a freezing place, then you can start looking for countries with negative zero temperatures and narrow down your list from there. Going abroad is expensive, so you need to choose the best one where you'll surely have fun and get your money's worth. For starters, you can fill your list with these.
Explore a Freezing Tundra
A place that's completely different from what you've explored before, tundras boast dry and freezing climates and a vast expanse, giving you all the space you need to set up camp.
If your motif for your impending trip is to stay away from your socials and be alone with your thoughts and appreciate nature, traveling to tundras in Alaska, Greenland, Canada, and Iceland is the best pick.
Visit the Origin of Things
Suppose you're a curious cat and often wonder how things came to be. In that case, the perfect travel theme for you is to visit places that were witnesses to historical events, artifacts, and even famous delicacies.
For example, if you're interested in pizza, as the rest of the world is, visiting Naples, Italy, and having a meal at the world's first pizzeria will be the very adventure that will satisfy your inquisitive nature. You can also take a romantic stroll in France and see where the country began by visiting its kilometer zero situated in front of Notre Dame.
See Beyond the Surface
Seeing picturesque landscapes can serve as a balm for your tired eyes, but you can further satiate your hunger for beautiful sights by going underwater. Besides having a relaxing time at the beach, swimming, and sunbathing, you can meet aquatic animals and feast your eyes on their colorful and majestic habitat made of corals and reefs.
One idyllic place for this is the Great Barrier Reef. It features over 2,900 reefs that span 2,300 km, giving you plenty of areas to visit and an abundance of sea creatures to see.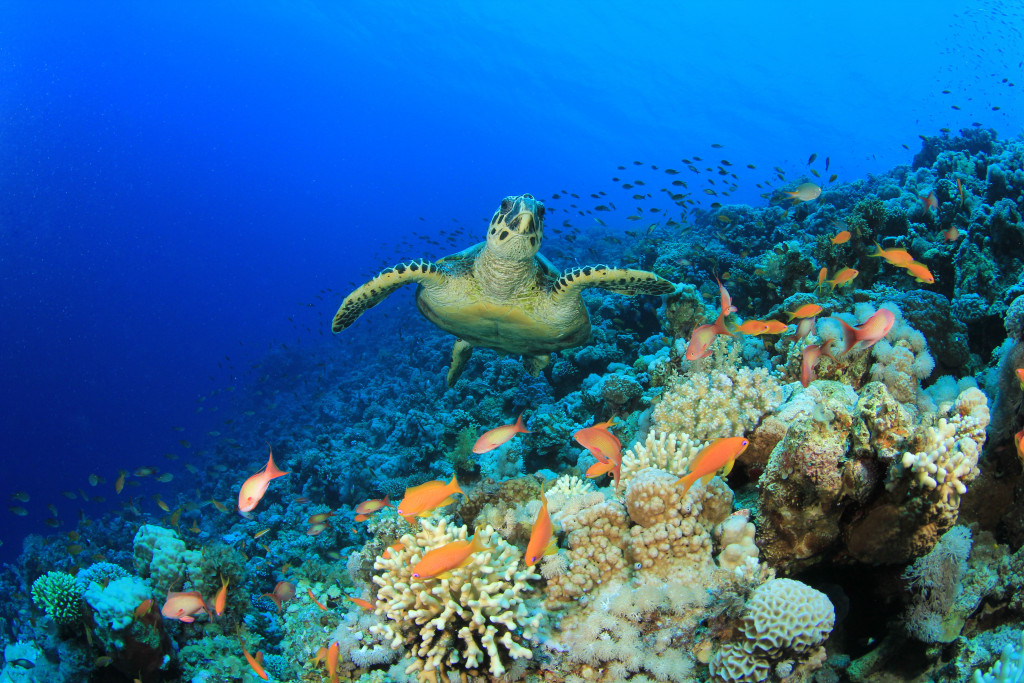 Get a Glimpse of Outer Space
Artificial historic buildings are a must when you're going to a place that abounds with colorful history, but the universe presents a more fantastic sight than artificial ones. You can go glamping in one of your outdoor escapades, but stars are astronomical objects you can observe virtually anywhere.
On the other hand, the northern lights only show themselves in some parts of the world. Aside from the freezing weather and rocky mountains, Canada is one of the few spots where you can see the northern lights, so if you're planning on heading to the west soon, you might want to book a ticket to this country.
Travel to Splurge
It's best to remain financially conscious during your travels since you'll still have bills waiting for you once you come back from your trip. However, your travels are once-in-a-lifetime experiences that you need to immerse yourself into fully. If you want to try going on a luxurious trip for a change, you can drop by the world's famous shopping districts and go all out on a shopping spree.
New York's Fifth Avenue or Paris's Avenue Montaigne are the places you'd want to go if you're on the lookout for branded items. And if you're on the hunt for cute boutiques and cozy coffee shops, Ginza, Tokyo is the place to be.
Bring the Experience Home
It's only natural to feel homesick after days and weeks of roaming the world. Most of the time, thoughts about home might have never visited your mind.
Still, at night, you might be longing for the comfort of your warm, cozy bed. Going on travels might make you feel less grounded — when you're at home, you'd want to go somewhere else, and when you're on a trip, you will miss home. As a fair compromise, you can bring the fun experiences you've had while traveling home instead.
For instance, you can create a room in your abode into a place that resembles one of the tropical places you've been to by letting natural light in via quality window furnishings and creative patterns in vibrant hues. You can also evoke a coastal look reminiscent of your vacations at sea by decorating a room with ocean colors and ornaments.
Traveling is a luxury not everyone has, but if you can, you must set off on the journey with the mindset of getting the whole experience in every place you visit.