Traveling as a young professional can be daunting, but it does not have to be. Traveling to new places for work usually means being at the whim of hotels, restaurants, and other amenities that are unfamiliar. It should be enjoyable because it's the start of your professional career. You should enjoy every bit of it.
Here are some tips to make your trip easier:
1. Save money by staying in an affordable place
If you're on a budget, there's no need to spend a fortune on a hotel room. A cheap hostel will give you all the basics you need and save you money for other activities. Look for hostels for students and young professionals that offer discounts and freebies. For instance, some hostels offer complimentary breakfast or dinner, which can save you money on food. Traveling with friends and colleagues? Search for hostels with a kitchen and dining area so everyone can prepare their own meals.
2. Travel light
You will not need much while traveling on business trips; in fact, one bag should be enough to carry all the stuff you'll need for your 5-day trip. Travel light so that you can spend less time waiting at baggage claim or lugging suitcases from one floor to another in hotels without elevators. Invest in a practical backpack that can fit under your seat during flights instead of huge suitcases that take up a lot of space at the back of the plane, where it might get damaged easily during takeoff and landing.
3. Learn the local language
Even if you're traveling to a neighboring country, it's always a good idea to know some of the local languages. It'll make it easier for you to order food, get directions, and ask for help when you need it. Download a translation app or carry a phrasebook with you wherever you go.
4. Dress appropriately
Dressing inappropriately can cost you jobs and business opportunities. When in doubt, dress conservatively and avoid wearing anything too flashy or revealing. If you're not sure about the customs in the place you're visiting, do some online research or ask someone who's been there before.
5. Travel during shoulder season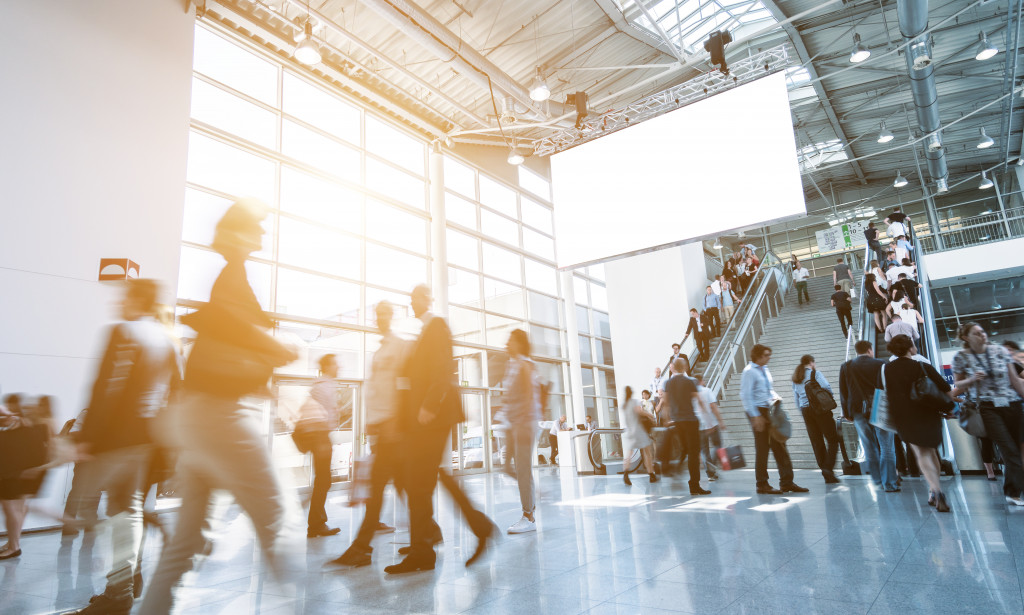 If funds are limited, but you still want to see new places, consider traveling during the off-peak season of your destination. Traveling during peak season costs more because of crowded public transport and high hotel rates. To save money, travel outside peak seasons so that you'll have more room for activities, even if it means the weather will be chillier or less pleasant than usual. Just make sure not to visit some countries during their rainy seasons because flooding might prevent you from exploring the place on foot as planned.
6. Travel solo
You don't have to have a companion to enjoy your work trips. Traveling solo can open up opportunities for you to make friends and learn more about the culture of your host country. Travelers who go solo find it easier to meet other travelers, especially if they're staying in a hostel or hotel where English-speaking foreigners usually stay because you don't have any language barrier to worry about.
Traveling solo is also an excellent way to boost confidence as you cross borders and discover new places on your own, although safety should be a priority at all times. You can even meet up with people from home or online friends from social media while sightseeing, making traveling alone less lonely than expected.
7. Travel with colleagues
Traveling with colleagues doesn't only help with the expenses, but it can also be an excellent opportunity to get to know them better. You'll have plenty of things to talk about during the trip, and you'll be able to work more efficiently when you're all in the same place. Traveling with colleagues can also help build team morale and improve communication within the team. Just make sure to agree on some ground rules before the trip starts so that everyone is on the same page regarding work-related matters.
8. Get travel insurance
No one knows when an unexpected event might occur, which is why it's always important to have travel insurance. Travel insurance will help you cover medical expenses, lost or stolen luggage, and other unforeseen events while you're away from home. Travel insurance can be bought online or from local providers.
Travel insurance plans usually cost around $10 to $20 per month, so if you're staying abroad for months, it's worth the investment to protect your trip. Travel insurance provides coverage that your standard health care plan might not offer while you're outside your home country. Don't forget to bring proof of purchase (i.e., receipts) when traveling in case you need to submit a claim later on.
Traveling as a young professional is fun and exciting. Traveling can be one of the best ways to experience new things while broadening your horizons. Traveling doesn't have to be expensive if you know what you're doing, but it's always important to prepare in advance so that your trip will be memorable for all the right reasons.